Hovercraft Events / News / Information

The Official Newsletter of the World Hovercraft Organization
January 2004 - In this issue:
- Introduction: The Year of the Hovercraft
- Update: HoverWorld Expo 2004
- New Download: 2002 CACTS Symposium on Air Cushion Technology
- Call for Papers: 2004 CACTS Symposium on Air Cushion Technology
- DiscoverHover: the Build-a-Hovercraft School Project
- Feature Story: From Sea to Shining Sea … by Hovercraft!
- Fast Facts about Hovercraft


Introduction: The Year of the Hovercraft
"The Year of the Hovercraft" has begun! 2004 marks the first time in the history of the hovercraft that two major world events are taking place in the same year: the World Hovercraft Championship, 31 Aug. – 5 Sept. 2004 in Berlin, Germany and HoverWorld Expo, 28 Dec. 2004 – 3 Jan. 2005 in Canberra, Australia.
WHC2004 and HoverWorld Expo 2004 have been planned and scheduled to make it possible for hovercraft enthusiasts to attend both events. HoverWorld Expo, a new event for which WHC2002 served as the prototype, is a special event designed to commemorate an important hallmark in hovercraft history: the 40th Anniversary of the World's First Hovercraft Race, held in 1964 in the same location on Lake Burley Griffin in Canberra. The top priority of Expo organizers is making the event affordable, so it's feasible for those who attend WHC2004 to also come to Canberra for HoverWorld Expo 2004 and experience the entire Year of the Hovercraft, not just part of it.

Update: HoverWorld Expo 2004
Ken Osmond, President of the Australian Hovercraft Federation, writes in the AHF newsletter:
"2004 has the potential to be the biggest year yet in the history of the Australian Hovercraft Federation. HoverWorld Expo 2004 in Canberra is going to be the most exciting hover event ever conducted in Australia. It will celebrate the 40th Anniversary of the first hovercraft race held in the world - in Canberra in 1964. HoverWorld Expo - scheduled to take place between 28 December 2004 and 3 January 2005 - will bring participants from around the world to Canberra ... "Note the HoverWorld Expo 2004 dates in your diary NOW, and start planning your trip to Canberra ... I would like to take this opportunity to wish to all the best for 2004, and to ask you for your full support of and for HoverWorld Expo 2004."
Site Planning
On 12 December 2003, Owen Ellis, Vice President (Asia) of the World Hovercraft Federation, and Sam Waugh of the World Hovercraft Federation, met with Canberra officials to embark in two Renegade hovercraft to explore Lake Burley Griffin and the Molonglo River in preparation for the HoverWorld Expo 2004 endurance race and world cruise.


Canberra and Australia support HoverWorld Expo
The governing authorities in Canberra and Australia have embraced HoverWorld Expo and have offered their full assistance. A comprehensive risk management plan was submitted to the National Capital Authority in Canberra, who quickly gave their in-principle approval and full support.
Australian Capital Tourism is enthusiastically supporting HoverWorld Expo 2004 as well. ACT has generously offered assistance with marketing and promoting the event, and their Event Development Executive, Visitation Executive and Partnership Executive stand ready to assist in planning for its success.
Watch their web site as Australian Capital Tourism begins to promote the event. You might want to bookmark the site – it's an excellent all-in-one resource for information about Canberra and Australia, from must-see attractions, to finding the best restaurant, to comprehensive detail about the Aussie experience: VisitCanberra.com.au


Dignitaries to attend HoverWorld Expo 2004
Alan Bliault, considered the world's foremost authority on WIGS and hovercraft, will attend HoverWorld Expo 2004, and present a paper at the CACTS Symposium as well. Bliault is also serving as a Special Consultant to DiscoverHover.
A search has been underway to locate the pilots and crews of the 11 hovercraft who competed in the 1964 World's First Hovercraft Race, and they have been invited to compete in a special Pioneer's Race at HoverWorld Expo 2004. Watch the web site to learn who will be participating.


New download: 2002 CACTS Symposium on Air Cushion Technology
Step inside the world of the international experts who are forging the future of hovercraft! Download from one location the most current information available on racing/personal hovercraft design, WIG hovercraft, military and Homeland Security hovercraft, school hovercraft projects, search and rescue techniques and much more.
The Proceedings of the CACTS 2002 Symposium are now available on the World Hovercraft Organization web site, and include 199 pages of ACV/hovercraft information, diagrams, full color photos, and transcriptions of all sessions during the 3-day Symposium.
Download the Proceedings from: http://www.WorldHovercraft.org/downloads/downloads.htm


Call for Papers: 2004 CACTS Symposium on Air Cushion Technology
You are cordially invited to submit a paper for presentation at the CACTS 2004 Symposium on Air Cushion Technology, scheduled for 28-30 December 2004 in Canberra, Australia in conjunction with HoverWorldExpo 2004. Papers addressing sport and racing hovercraft design are particularly encouraged. Selected papers will be reviewed for publication in the Canadian Aeronautics and Space Journal. The submission deadline is 28 June, 2004.

DiscoverHover: the Build-a-Hovercraft School Project
Do you know a school, university, youth club or individual student who would like to build a hovercraft and race it in HoverWorld Expo 2004? A new program established by the World Hovercraft Organization can make it possible! DiscoverHover is an international not-for-profit program whose mission is to give students worldwide the educational opportunities afforded by building a hovercraft and competing in established hovercraft races.
A special opportunity exists for students participating in DiscoverHover during the 2004 school year: The World Hovercraft Organization will pay to ship qualifying hovercraft to Australia, where students will compete alongside world champions in the HoverWorld Expo 2004 Endurance Race!
All information on the DiscoverHover web site - including free hovercraft plans - is made available without charge to schools and universities, to youth organizations and to students age 7 to 21 anywhere in the world. DiscoverHover also provides a highly popular interactive exhibit for museums anywhere in the world, including a working HoverChair to give children the opportunity to pilot a hovercraft.
Visit the DiscoverHover web site today, and let learning take flight! www.DiscoverHover.org
You can help promote this important project by placing the DiscoverHover banner on your web site: http://www.discoverhover.org/links/index.htm

Feature Story

From Sea to Shining Sea … by Hovercraft!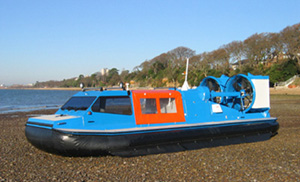 On May 14, 1804, Meriwether Lewis and William Clark set sail for the Pacific Ocean on a three-year voyage of discovery in a 22-oar keelboat, a large 7-oar perogue, and a second 6-oar perogue, all carrying crews, full supplies and a dog.
Two hundred years later, Robert Hodson, a citizen of Great Britain, will cover much of that same territory in a two-year, coast-to-coast voyage of America … in a hovercraft carrying one man, his golf clubs, an inflatable canoe and a laptop!
In recognition of the first official exploration undertaken by the U.S. government, Hodson's hover-adventure will coincide with the Bicentennial Commemoration of the Lewis & Clark expedition. Hodson's expedition, to begin on March 17, will be the longest hovercraft trek in history.
(photo: Hodson's VW diesel-powered Griffon Hovercraft.) With all the small rivers he plans to explore, his journey could exceed 30,000 miles, with as much as 99% of that traveled by hovercraft.
A hovercraft novice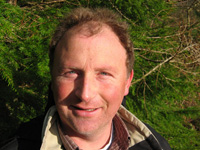 A gardener by profession, and a former backcountry Ranger in Yellowstone National Park, Hodson is a classic outdoors man … who has never flown a hovercraft! Not letting that deter him in his quest for "something new and different," he purchased a twin VW diesel powered Griffon hovercraft and began making 'plans.' Since his main objective is "pure and simple fun," Hodson plans for his journey to be unstructured and free of schedules.
That's quite a contrast to the detailed planning of Lewis & Clark, who needed secret authorization from Congress and who documented their trip so carefully that 178 new plants and 122 new animals were recorded in their on-board scientific journals! Hodson will record his experiences on his laptop, and also use it to keep the public updated on his progress via his web site, www.hover-adventure.com.
(photo: Robert Hodson, a modern-day explorer and Hover Adventurer.)
Hover along with Hodson!
Hodson invites fellow hovercrafters to join him on his historic hover-adventure. During the entire two years of his trip, track his location on both www.hover-adventure.com and here on the World Hovercraft Organization web site, www.worldhovercraft.org, then meet up with him to hover along for portions of his course across America. He can't give out his exact itinerary ahead of time because Hodson's 'un-plans' leave plenty of time for sightseeing, spontaneous detours and exploring streams inaccessible to the hovercraft in his inflatable canoe.
Before leaving the East Coast, Hodson will make seven trips along the intercoastal waterway to gain hovering experience while exploring and sightseeing. From there, he'll move on to hover around Tybee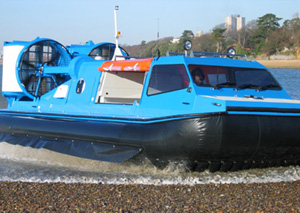 Island and Savannah, Georgia for a week before heading upstream on March 17 after he and his craft appear in Savannah's St. Patrick's Day parade. He'll hover his way up the Savannah River, with the avid golfer's goal of arriving in Augusta by early April for the Masters Golf tournament.
Hodson says he "needs the golf break before trying to negotiate the J. Strom Thurmond Dam using a slip road and a pickup to give me a helping tow!" He'll follow this water system as far west as possible before arranging some sort of portage into the Tennessee Valley water system. Wherever portage is required, he plans to hover along roadways. When roads are not an option, he's hoping that maybe a nearby helicopter company will offer to sling the weighty Griffon for a short distance, such as over a too-high-to-hover dam.

Once into the Tennessee Valley water system, Hodson's goal is to reach Gulf Shores, Alabama by the end of April via the Tom-Bigbee Waterway. From the Gulf of Mexico, he says he has "no hard and fast plans for the rest of the trip, other than to head back up the Mississippi and take various river systems to the east, including the possibility of the Great Lakes … and, of course, to follow the path of Lewis & Clark on the Ohio."
On the second year of his hover-adventure, Hodson hopes to "head west from St. Louis, again doing many of the western rivers before taking the Missouri, Yellowstone, Snake, Salmon and Columbia Rivers to the Pacific." He wants to contact his friends in Yellowstone when he hovers the Snake River and then make a trip into the park.
(photo: John Baker, Griffon hovercraft test pilot, takes Hodson's craft on a trial run on Southampton waters in the UK.)
Doing good while having fun
Even though Hodson claims the reason for his trip is pure and simple fun, he has generously planned his hover-adventure to benefit others. He has a deep and abiding love for wildlife and river management, and intends to take time to share with children his knowledge and his passion for adventure. Hodson will visit schools all along the way to inspire children to keep adventure in their lives. He says, "Anyone can have adventure. It's simply a matter of doing it! I want children and schools to know that they can make a small, man-carrying hovercraft for less than $1,000." Hodson will introduce schools to the World Hovercraft Organization's DiscoverHover program, www.DiscoverHover.org. The program offers free plans to schools and youth clubs for building a hovercraft and racing it in Australia in HoverWorld Expo 2004.
Meeting the challenges
A British citizen, Hodson hopes to secure a two-year Visa from U.S. Immigration so that he won't have to interrupt his hover-adventure to leave the country and then reapply for another Visa. If a two-year Visa isn't possible, maybe a trip to HoverWorld Expo 2004 could meet this leave-the-country requirement! Or maybe one of the small tributaries that lead into Canada could solve the problem. All it would take is a sympathetic U.S. Immigration officer willing to hike into southern Alberta with the paperwork in a backpack!
Immigration problems aside, Hodson, like any pioneer, will undoubtedly face many challenges as he journeys from sea to sea on the longest hovercraft trek in history. As hovercrafters know, things go wrong. Fuel runs out in the worst possible places. Stuff breaks. But such things don't frighten Hodson. As an outdoorsman, he's at home everywhere. Besides, he'll find friendly folks all along America's famed river systems. Surrounded by Hoverclub members – and possibly by some of the descendants of the folks who gave Lewis & Clark a hand – no challenge can be too great to overcome.


Fast Facts about Hovercraft
The World's First Ground Effect Machine Race
"The World's First Hovercraft Race" was not billed by that name in 1964. It was officially known as "The World's First Ground Effect Machine Race." Sir Christopher Cockerell, the inventor of the hovercraft, copyrighted the term "hovercraft" as a commercial name in 1955 so it was not available for public use. Later, Cockerell generously handed the name over to public domain.
A good overview of the terms used for various air cushion vehicles can be found on the DiscoverHover web site at http://www.discoverhover.org/abouthovercraft/history.htm
The hovercraft has a seagull's "footprint"
The pressure a hovercraft exerts on its operating surface is 1/30th that of a human foot. The average human being standing on ground exerts a pressure of about 3 lbs per square inch, rising to 25 lbs per square inch when walking. The average hovercraft, by comparison, exerts a pressure of only 0.33 lbs per square inch on its operating surface, regardless of speed.
This "footprint" pressure is less than that of a seagull standing on one leg! With such negligible impact, hovercraft have literally flown over a pedestrian without inflicting harm, and in that respect are possibly the most environmentally safe vehicle in existence.
………………………………………………………………………………………………………………………………
Subscribe to HoverWorld Insider
Submit news or articles to HoverWorld Insider.

Read past issues in the HoverWorld Insider archives.
HoverWorld Insider is published by the World Hovercraft Organization. All rights reserved.
Copyright (C) 2003 World Hovercraft Organization