The documented individual and collective accomplishments of the Club's members would fill a large museum and library. With the Club's history and accomplishments in mind, this paper explores the significant question: Why do people become members of the HCA?

To help answer the question of why people become members of the HCA, this paper relies very heavily on two Hovercraft Club of America surveys taken ten years apart: 1985 and 1995 (Results from both surveys are displayed comparatively in Appendix A).

From analyzing the survey results, there are two major themes, or reasons, that Club members join and remain members: innovation and fun. The typical Club member appears to like new and innovative ideas and hovercraft seem to satisfy this need for him or her. Fun, in the form of camaraderie and sharing with like-mined people, appears to be an equally important reason for the typical Club member joining and remaining a member.

A third reason for members remaining members is the Club's phenomenal safety record over its twenty-eight years. Safety is the foundation that supports the innovation and fun for HCA members.

In its twenty-eight year history, the Hovercraft Club of America has been a significant part of the development and evolution of hovercraft throughout the Americas and the rest of the World.
This paper looks specifically at the membership of the Hovercraft Club of America and attempts to identify why members became members. Since the Club is its members, it is important to determine what the membership wants from the collective organization of a club.
---

The F25 Heron: Design and Development of a Competitive Formula 25 Hovercraft
Graham Spencer and Kevin Pratt (USA)
The relatively new Formula 25 racing class has inspired several unique hovercraft designs. The F25 "Heron" is one such design, featuring a forward-facing lift fan and a 55" composite drive shaft weighing less than two pounds. This hovercraft has produced some surprising results over the past five years of design and development, including a 2000 World Hovercraft Championship Title and the Hovercraft Club of America's Technical Innovation Award. This paper will present a discussion of design philosophy as well as construction and development techniques employed through a team approach.
---

Hydrodynamic Lift Effects with Forward Facing Segmented Skirt Systems
Ralph DuBose, Hydrodynamic (USA)
The premise underlying this project has been that pitch stability for hovercraft in high speed, non-displacement operation over water surfaces must depend, to some degree, on hydrodynamic, hydroplaning lift generated by the skirt system itself. Modifications to enhance the lift/drag performance of forward facing skirt elements could usefully enhance the pitch stability and plow-in safety of light hovercraft.

Rear-facing segmented skirts are typically designed to produce a small amount of hydroplaning lift in response to downward compression. Typical forward facing skirt segments are even more limited in their ability to exert upward lift. The highly compliant nature of air filled cloth skirt bags means that contact with the irregularities of a water surface will easily force the water contact line (and the cushion area) rearward. Such water contact is also associated with induced drag that can be, in a worse case situation, the beginning of the positive feedback loop of drag-nose down-drag which leads to a plow-in event.

This project involved the development and testing of a number of hydroplane capable skirt designs with enhanced lift/drag performance. The primary goal was enhanced plow-in safety.

The author asserts that a significant, useful increase in pitch stability and plow-in safety is obtainable by this approach with an acceptable cost in terms of overall obtrusiveness and inconvenience. This is true primarily because the positive feedback loop nature of the plow-in sequence means that small stabilizing forces acting early in the process will have a disproportionately large beneficial effect.
---

Evolution of the Homebuilt Entry Level Hovercraft
Bob Windt, President, Universal Hovercraft, Inc. (USA)
I started building hovercraft in 1962 when my brother John visited me on the west coast. He came out to see me from Illinois and I was working for Douglas Aircraft as an aeronautical engineer. He and I were looking for a craft to go out in the desert and then convert to one that would go on water. The one craft that would do it all was the hovercraft, and that's what we built. It was a natural, since I could combine the aircraft principles I was working with and the boats we had all grown up with. The best part was we could build it from everyday items and parts we had around the shop. Truly homebuilt.
---

Design Philosophy Behind the ACV-10
Dean Pollee (USA)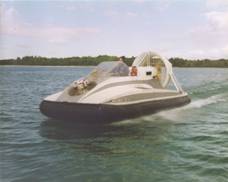 A specification for an advanced cruising light hovercraft derived from many years of cruising experience. For a truly practical and comfortable cruising craft, moderate speed, good acceleration, family and supplies size payload, 300-mile range, good sea state capability and above all, low cabin and exterior noise levels are desired. This paper discusses how the ACV-10 design meets these
requirements.


---

An Overview on Curriculum Development, Exhibit Design and Youth Activities Related to Hovercraft Technologies
James C. Wallace II, The Children's Science and Technology Museum of Terre Haute (USA)
Recent revisions in Indiana State Curriculum Guidelines have placed more emphasis on increasingly complex science concepts, including pressure, both positive and negative. Standards and benchmarks for introduction of these concepts are being targeted at the 3rd grade primary school level. Unique and innovative methods involving hovercraft concepts are currently under development which will address these standards and benchmarks in a manner consistent with current educational philosophy and which adheres to the four basic learning styles. These methods will be examined and include a targeted 3rd grade level museum exhibit known as "The Science of Hovercraft: It's Just a Matter of Inches!" and a hands-on secondary school level engineering project known as the "Build a Hovercraft" program which reinforces the aforementioned specific benchmarks at a higher concept level.
---

Aspects and Developmental Problems Pertaining to Neoteric Light Hovercraft
Robert Wilson, President, Neoteric Engineering Affiliates, Pty. Ltd. (AUST)
The performance and duty specifications give the limits of design possibilities and defines many key components. Neoteric Light Hovercraft were designed from specifications for easy handling by an individual, a single engine and fan configuration, operation in relatively congested and height limited waterways, rescue operations, and recreational use year round. Batch production was also specified.

Power to weight ratio considerations led to 2-cycle gasoline engine use, resulting in developmental problems in high engine mount failures, overheating and relatively high noise levels, engine to fan matching difficulties with mid-range bog down.

The simpler finger skirt and integrated lift and thrust led to dynamic stability problems over water under some conditions. A special hull shape required development to reduce the severity of hull impacts.

The employment of a high speed, low solidity axial flow fan posed developmental problems maintaining lift air supply at low fan speed.
---

European Hovercraft
Tony Drake (UK)
My name is Tony Drake. I am currently the World Hovercraft Federation Vice President for Europe and have been so for some ten years. Until recently I was Chairman to the Hovercraft Club of Great Britain, a position I held for over twelve years. I have also been a European Hovercraft Federation Board member for over twelve years. I have raced Formula One hovercraft both in Great Britain and Europe for over twenty years. This presentation will give you an idea of the current situation regarding the state of amateur hovercrafting in Europe and to give some thoughts as to its future. I must say at the outset the views I put forward are my own personal views and observations formed over many years.
---

Search and Rescue Hovercraft Operations
Capt. Brian Wootton (Presented by Capt. Daniel L'Heureux) Canadian Coast Guard
Pacific Region, Hovercraft Base Sea Island (Canada)
Whether it's a fire rescue crew, an ambulance team, or aircrew, the 3:00am wail of a 'Hot-line' unleashes a jolt of adrenaline quite unlike anything else you've experienced. In this particular case it will take less than four minutes for a Coast Guard crew to answer the call for help by raising their Air Cushion Vehicle into a static hover. Their craft will hang for only a second or two –- and then drive forward as the propulsion engines are brought smoothly to full power. With palpable force the hand of acceleration presses each crewmember into their seat. As the Hovercraft hurtles into the morning twilight the Captain will be gratified to see the GPS climb through 30, then 40, and finally 50 knots – the success or failure of this mission will depend upon many factors, not the least of which will be the time it takes to deliver his Rescue Specialists to the scene of the distress.
---

40-plus Years of Research and Development of Air Cushion Vehicles by Aeromobile, Inc.
William R. Bertelsen, M.D., VP, R&D, Founder
There was no such thing as an air cushion vehicle before the 1950's. The publicity on air cushion vehicles began in 1959 when I was 39 years old, and I haven't changed a bit I am still 39 years old!!! There was a lot going on before the world press broke the news of ground effect craft of 1959. There were others at work on ground effect machines, or GEM's, as they were first designated. We were all unknown to each other until Martin Mann, Senior Editor of Popular Science, published the article, "Here Come Cars Without Wheels", in the July 1959 issue. It showed photos of Princeton University's, "Flying Saucer", a circular machine, Curtiss Wright's "Air Car", a plenum chamber craft, and the Aeromobile 35B on land and water. There were drawings of Carl Weiland's "Flying Arrow", and the British Hovercraft, SRN-1.
---

Recent Developments in Gimbal Fan Technology for Air Cushion Vehicles
John Grant, CEO, Chairman, Aeromobile, Inc. (USA)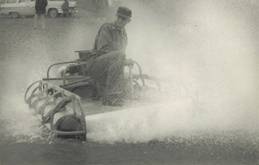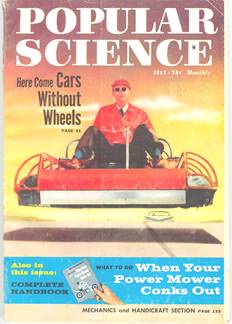 Since the late 1980's we have refined the operation and application of the Gimbal Fan, we have built our prototype of the Aero-Duct System and had it shown to the world on the Learning Channel's Extreme Machines program. The Air Track Crawler prototype has been built and we have built and tested the production prototypes of the A-2000 twin and 3-engined ACV. The production prototype of the ACV-3, a single engine 3-passenger recreational Air Cushion Vehicle has been completed and is currently being demonstrated to all interested people. Our current emphasis in addition to producing the ACV-3 is proposing an application of the Air Track Crawler to a large Canadian firm who wants vehicles from the size of a pick-up truck to as large as 400-ton capacity.
---

Hovercraft: A Proposal for the 21st Century
John Mitchell, Mitchell Research (USA)
This paper was submitted but not presented at the symposium. The author has requested its inclusion in the proceedings.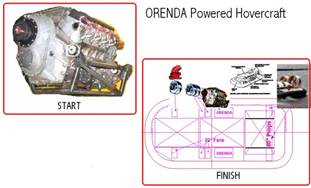 This is designed around the 400HP ORENDA V8 Engine, which would be the major item in a module consisting of the Lift Fans, Transmission, Fuel & Oil Systems and Power Plant. The concept of modular construction in the hovercraft provides for many variations on a theme. For example, if a Customer wished to use the bigger 600HP ORENDA Engine, the basic power module concept can be adapted for that and other structural modules making up the load carrying hull of the hovercraft can be adjusted to provide the deck area and payload requirements to the Customer's Specifications.

---

Hovercat: A Design and Concept Study of Hovercraft in the Scandinavian Region
Björn-Åke Sköld, Björn-Åke Sköld Design AB (Sweden)
The Scandinavian public has several perceived negative opinions about Hovercraft. We have identified the following main obstacles:

• User friendliness
• Manoeuvrability/ Safety
• Environmental aspects (noise)
This study is to find ways to remedy the above concerns on small and mid size Hovercraft.
We improve user friendliness by make the cargo area more accessible. By "splitting" the hovercraft, the area is easier to reach. Stability is improved as well as the possibility to place heavy equipment close to the centre of gravity without loosing cargo space.

Locating the propellers/fans, next to the cargo/passenger compartment, and lets them pivot, both drive motion and brake effects are achieved. This greatly improves the manoeuvrability and thereby safety.

Noise reduced is achieved thru a number of actions. The design let the propellers operate in mostly undisturbed air. We engineer a tip less fan where part of the duct is combined with the fan.
---

Griffon 8000TD: Design and Build
John Hugh Gifford, Griffon Hovercraft Ltd. (UK)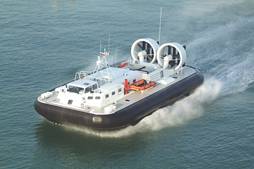 The paper describes the major design elements of Griffon Hovercraft Ltd's latest design, the 8000TD hovercraft. It looks at how the design and production areas related to potential customer requirements. Subsequent to the build, the paper looks at the trials and modifications arising from it and concludes how a new design has successfully been put into service.

Griffon Hovercraft Ltd (GHL) has designed and built more diesel-powered hovercraft than any other company. This paper looks at the design and production of its largest design to date – the Griffon 8000TD – the first craft of which ran in May 2000, being the first craft of six delivered to the Indian Coast Guard. Since then different derivatives have been delivered to the Saudi Arabian Border Guard and the Korean National Maritime Police Agency. More are on order for the Saudi Arabian Border Guard and the Civil Aviation Authority of Singapore.
---

Ice Breaking in the St. Lawrence River
David Dickins, DF Dickins Associates (USA) & Captain Daniel L'Heureux, Commanding Officer, Canadian Coast Guard Hovercraft Unit, Quebec Region (Canada)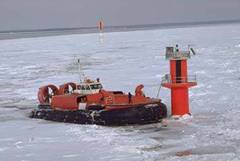 The Canadian Coast Guard has been using heavy hovercraft for icebreaking in the St Lawrence River for more than 30 years. During that time, the craft's reputation has been building to the point where they are now considered an essential part of the fleet of icebreakers tasked to keep the St Lawrence Seaway opened to the port of Montreal every winter. This reputation has led to the addition of another craft larger than the original AP1-88/200 at a time when the Canadian Coast Guard has been undergoing major budgetary restrictions and when no conventional icebreaker has been added to the fleet for over 20 years.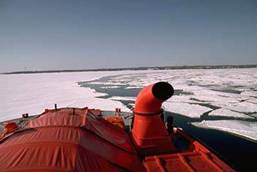 This paper is intended give the reader a look at the development and history of the technology for this particular application. We will attempt to describe the techniques developed during this period as well as report on the evolution of our global approach toward icebreaking in our region, mostly to facilitate safe commercial navigation as well as flood prevention for the towns situated on the shores of the St Lawrence River and its tributaries.

We will also describe the work accomplished by these craft during the course of a typical winter alone and with conventional icebreakers as well as look at potential icebreaking applications in other regions. Finally, we will try to analyse the reasons behind this operational success and give a short description of other work performed by these crafts at other time of the year.

Finally, we will take a look at future applications and talk about requirements for an even larger craft for service in the Coast Guard.
---

Evolution of Air Cushion Technology: From Hovercraft to Wing in Ground Effect (WIG) Craft
L. Yun: Chairman of HPMV Design Subcommittee, CSNAME, China, Chief Designer of AWIG type "SWAN", MARIC, China, Technical Director, Flying Dragon Technologies (Hong Kong)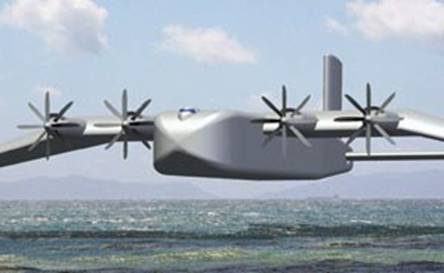 The evolution of Air Cushion Vehicle (ACV) is described in this paper, from SRNI, the first of these kinds in the world to LCAC (USA), the largest batch products, and Zobl (Russia), the biggest, in the world. This paper also explains the contribution of the flexible skirt, which generated the ACV from laboratory to practical use, however, also leads to great difficulties in operation of craft on life and maintenance. In addition, the teething problem of the coastal and seagoing ACV, such as poor Sea-keeping quality (speed loss, and vertical acceleration due to air leakage and wave pumping effect of craft in waves) still have not been solved. Since then, researchers try to create a novel super high-speed craft taking off from water surface perfectly, and without skirt. It leads to the appearance of Amphibious WIG, from Dynamic Air Cushion Craft, DACC (Volga-2 of Russia), Dynamic Air Cushion Wing in Ground Effect Craft, DACWIG (SWAN of China), to Ekranolet (Ivolga of Russia), which possesses four advantages. Those are: Super high speed (200 km/h more), amphibious, multiple operation mode (flight altitude from zero to beyond surface effect zone), and fine sea-keeping quality.
---

The Hovercraft Museum and its Place in Supporting the Hovercraft Industry
Brian J. Russell B. Sc. (HONS), Hovercraft Museum Site Manager
The Hovercraft Museum Project was started in 1986 by a group of enthusiasts, who formed a Board of Trustees, achieved charitable status and started collecting early hovercraft that had reached the end of their useful life.

These craft have been moved around a number of locations, as permission to use sites was withdrawn, and are currently at two locations on the South coast of England. The number of craft in the collection has increased from the original three or four to over sixty, and range in size from a child's single seat fun craft to the cross-Channel Swift.

As well as full size hovercraft, the Museum has a large collection of test and display models and hovercraft components and extensive archives. Current projects include the development of a Hovercraft Propulsor display, model and other display material for the Sir Christopher Cockerell Lecture Theatre and cataloguing the archives. Negotiations are currently underway to extend the scope of the exhibits to include other historical transport concepts.

The Museum not only illustrates the history of hovercraft – which spans some fifty years – but also promotes the air cushion industry in a number of ways. These include the location of commercial and humane activities, the hosting of visits and talks and via the annual Hovershows.
---

LCAC Service Life Extension Program
LCdr Leonard M. Maxwell, Canadian Exchange Officer Naval Sea Systems Command, LCAC Ship Design Manager
The United States Navy's Landing Craft Air Cushion has been in service since the delivery of LCAC 01 in 1984. With a service life of 20 years the USN has undertaken a Service Life Extension Program (SLEP) to modernize the LCAC fleet and address a number of concerns in the baseline craft. This paper discusses the upgraded gas turbine propulsion ETF40B engines, incorporation of the "LCAC deep skirt" and the suite of modern C4N equipment incorporated during the LCAC SLEP. The end result is a fully integrated and functional craft that leverages off of COTS technology to provide the amphibious fleet with a highly reliable and maintainable system.
---

Chapter F265: Hovercraft Operations
Sgt. William Weiss, Ted Stevens Anchorage International Airport, Alaska (USA)
The department will provide, when personnel are available, rescue services via hovercraft in the areas of Lake Hood, Lake Spenard, and Cook Inlet. Rescue services include, but are not limited to, water, ice and mudflat rescue. The department will also respond to mutual aid requests from other agencies when able. Detailed procedures will be described in this paper.
---

El Centro Sector BORSTAR Team Hovercraft Operational Procedures
Senior Patrol Agent Michael O'Connor (USA)
BORSTAR is a search and rescue team capable of providing immediate response within all areas of Imperial County, including the mountains, deserts, and canals.

The All-American Canal and the other canals located in the Imperial County, while a vital lifeline for this part of Southern California, have proven to be a source of danger for Border Patrol Agents, citizens, and illegal aliens. Throughout much of El Centro Sector's area of responsibility, the All-American Canal travels parallel and very close to the United States-Mexico International Border.
Because of its close proximity to the International Border, many undocumented aliens attempt to cross the canal in an effort to enter the United States illegally and without detection. The combination of inexperienced swimmers, ruthless tactics of alien smugglers and unpredictable currents result in numerous accidents in and along the canals. Far too often these accidents have deadly consequences.

The hovercraft will be used in assisting with the Border Safety Initiative. It will allow agents, who are proficient in its use, to navigate the waters of the All-American Canal, an area previously inaccessible to Border Patrol Agents.

A hovercraft was chosen from among other types of watercraft because it is a low-wake vehicle that will have minimal impact on the All-American Canal and its banks, but still be capable of protecting the lives of those on and around the All-American Canal.
---