March 2006
HoverWorld Insider
DiscoverHover expands to 1500 schools in 44 countries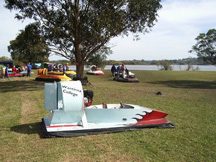 Australia's Wantirna College built the
world's first DiscoverHover One hovercraft.
The World Hovercraft Organization's DiscoverHover international school hovercraft program debuted in 2003 as a resource to give "…students worldwide the educational opportunities that accompany the building of a hovercraft and racing it in established hovercraft races." The focus of the program is the construction and piloting of the DiscoverHover One hovercraft, which meets global standards for entry-level racing hovercraft.
DiscoverHover provides hovercraft plans and instructions, Curriculum Guides and comprehensive resources at no charge to schools and universities, youth organizations, instructors, and students age 7 to 21 anywhere in the world.
When DiscoverHover.org went online in September 2003, a light trickling of traffic found its way to the site; for the first few months, visits to the site did not exceed 15 per month. The power and appeal of this unique youth opportunity is reflected in its current statistics:
Today, visits to the web site exceed 170,000 per month, and this trend continues to grow;
DiscoverHover membership has grown to approach 1500 schools, youth groups and individual students, and a number of schools have built more than one hovercraft;
The program has expanded throughout the world, with registrants in 44 countries to date: Australia, Argentina, Austria, Belgium, Canada, Colombia, Cyprus, Czech Republic, Denmark, France, Germany, Guatemala, Hong Kong, India, Indonesia, Ireland, Israel, Japan, Kuwait, Lebanon, Malaysia, Mexico, Moldova, Montenegro, Netherlands, New Zealand, Norway, Peru, Philippines, Poland, Russia, Serbia, Singapore, South Africa, Spain, Sweden, Switzerland, Thailand, Tunisia, Turkey, United Arab Emirates, United Kingdom, United States and Venezuela.
New DiscoverHover "Sister School" program
In response to the number of requests received from instructors wishing to collaborate with other schools as they build the DiscoverHover One, the World Hovercraft Organization will soon establish its new DiscoverHover Sister School program.
Sister school programs are proven to be educational opportunities that have tremendous impact on those involved, and can have a lasting influence on international relations as well.
Partnering with a school or several schools in other countries, or even with another school in your own country, not only allows you to share ideas and expertise as you build your hovercraft, it deepens the educational experience for both students and instructors. Participants in similar sister school programs cite their many benefits, including deeper understanding of other cultures; new global and historical perspectives on their own societies; lasting personal relationships; increased language competence; and increased curiosity, excitement and enthusiasm about learning.
Your program can begin with a simple exchange of emailed information and helpful building tips, but can easily expand into cooperative curriculum development and exchange visits by students and instructors between schools. As the program evolves, additional information and guidelines will be posted on the DiscoverHover web site.
Watch your email for your invitation to participate in the new DiscoverHover Sister School program! In the meantime, don't forget that the DiscoverHover Forum will let you open a discussion with the entire worldwide DiscoverHover membership as well as with program officials.