New Zealand Herald
1 May, 2011
by Portia Mao
China deal sours for NZ boss
A Kiwi hovercraft company owner has been accused of theft of a DVD player in one of the more petty twists in a case where legal demands are flying over a soured Chinese/New Zealand business venture. Chinese police visited Pacific Hovercraft NZ director Stephen Preest at his hotel last month after he protested at the Shanghai International Boat Show about the activities of his former partner, Terry Yang.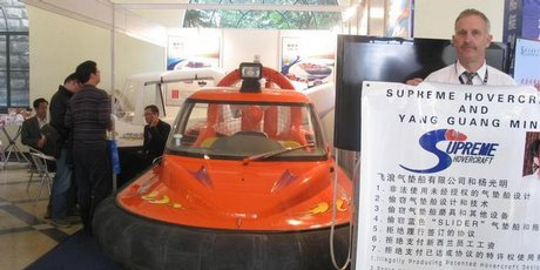 Stephen Preest protests outside the Lianyungang Supreme
Hovercraft booth at the Shanghai International Boat Show
Preest accuses Yang's company, Lianyungang Supreme Hovercraft, of holding his intellectual property without permission.
When he found Lianyungang Supreme playing a Pacific Hovercraft DVD at the show he confiscated the DVD player and took it to organisers, demanding the film be banned.
Supreme filed a theft charge against him and local police ordered him to return the DVD player the next day.
It is one of the more colourful episodes in a bitter trans-Pacific dispute that has involved a debtor website run by a former Hells Angel and the resignation of former Cabinet minister Pansy Wong.
The boat show incident happened just days after Yang sent a legal letter to Preest demanding US$4.5 million ($5.6 million) compensation for the Kiwi's allegedly "misleading and deceptive conduct".
Yang and Preest were introduced by former Cabinet minister Pansy Wong's husband, Sammy, in 2007. Yang was impressed by Pacific Hovercraft and believed there was a big market for it in China. The two sides signed a deal in 2008 to manufacture Pacific's designs in a Lianyungang factory. However, the first craft off the production line - sold to the Inner Mongolia water authority to bomb ice on the Yellow River - was not a success.
Supreme used untrained staff and untested Chinese parts and "had a number of technical issues that were not solved, yet the craft were still shipped up to Inner Mongolia," Preest said.
It was the beginning of the end for the co-operation. Yang said he made a significant investment in setting up the factory and hiring staff because he trusted Sammy Wong and New Zealand technology. But he [Yang] was surprised by what he found. "There was no manufacturing plan or specific industrial standards for testing purposes. Steve didn't even provide a list of all necessary parts to manufacture the crafts," he said.
Yang also claimed Preest's design and technology was used for small recreational craft in good water conditions and not for commercial purposes. His company had to pay compensation to clients who returned the hovercrafts because of the "serious defects".
Preest acknowledged some of Yang's claims, saying not all the drawings were complete. But "to take craft from a production level of 10 craft a year to 5000 requires a huge revision of drawings and construction methods", he said.
A large amount of documentation was sent to Supreme but months later it had still not been translated into Chinese and staff had no written instructions. Supreme had wanted him [Preest] to sign a document guaranteeing the quality of the craft but he refused.
Yang ignored their agreement that Pacific would take a 10 per cent share in Supreme, Preest said. In February last year he sent Supreme a lawyer's letter cancelling all the agreements and demanding funds owed and the return of Pacific's moulds and equipment. He was owed $1.3 million, he said. He went to the Dirty Debtors website - run by former Hells Angels member Andrew Sisson - in a last-ditch attempt to shame Yang into paying.
He has continued to email Yang demanding payment, leading to the letter from Yang's lawyer on April 13. In return Preest said he would sue Yang for royalties, return of property and unpaid salary. His lawyers were working on a "no win, no fee" basis.
Late last year Pansy Wong was forced to resign her ministerial posts after it emerged the trip to China on which her husband finalised the Pacific/Supreme deal was partly taxpayer-funded.
Yang had set up another company, Shanghai Supreme Hovercraft, after his split with Preest and was co-operating with hovercraft companies in Europe and the United States.
Preest is in discussions with other Chinese companies interested in producing his hovercraft.